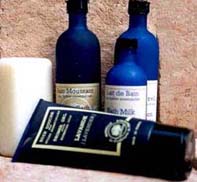 Click on the picture to see a larger image, then use the back button on your browser to return.
Compagnie de Provence

Foam Bath - essential oils of lavender, rosemary, cinnamon, mandarin, and natural extracts of vanilla, jasmin, and seaweed.
Bath Milk - lowers the pH of the water, softens and generously moisturizes your skin.
Body Lotion - softens, nourishes, and protects the skin with oils of rosemary and lavender.
Foam Bath (7oz.)
$22.00


Bath Milk (3.5oz.)
$20.00

Lavender Soap (8.8oz.)
$9.00

Body Lotion (7oz.)
$20.00