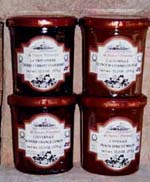 Click on the picture to see a larger image, then use the back button on your browser to return.
Conserveries de Haute Provence

Deep in the heart of Provence... where the Alps begin... there is a small company making jam as their grandparents and their parents did. This company doesn't mass produce jams... in fact they have only 27 employees and growing.

The The four jams we have selected celebrate the four seasons.
La Printaniere - (cherry, currant, strawberry)
L'Estivale - (peach, apricot, melon)
Automnales - (quince, watermelon, pear)
L'Hivernale - (rose hip, orange, lemon)

Set of 4 (one of each season) - $28.00