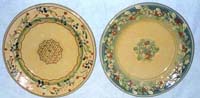 Click on the picture to see a larger image, then use the back button on your browser to return.
Hand-Painted Dinner Plates

The englobe or raised and textured hand-painted designs on our dinnerware are each created individually in the northern department of Provence called le Drome. The captivating sun-drenched colors of ochre, olive, and yellow combine to present a unique table service.

Please note that since each piece is hand-painted they each differ slightly... But that is precisely the intrigue of Provence!
Dinner Plates (11" 1/2" dia.) - $34.00 ea.