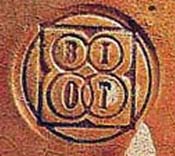 Click on the picture to see a larger image, then use the back button on your browser to return.
Biot Poterie - Jarres Pour le Jardin

Biot's famous earthenware jarres have been a tradition in this tiny coastal town since the 14th century. Ravaged by wars the town and it's pottery tradition were rebuit in 1470 when 16 families from Genoa, Italy restored the war torn village. The king at this time, Roi Rene, awarded special privilages to these 16 families for reconstructing the town and reintroducing the pottery tradition that had been destroyed. The poterie provencale has never varied from tradition. It began making the terra-cotta jarres with oval bodies and narrow cylindrical necks to hold olive oil for storage or shipment around the Mediterranean. In the early 1900s the jarres which were used for olives and oils for storage became popular in the gardens. The Mediterranean tradition "jarres pour le jardin" has since become popular throughout the world. Today the tradition continues - Daniel, Rene, and Oliver are descendents of the founders.

Every Biot jarre is signed with the Biot symbol which is the 4 letters of Biot surrounded by two figure 8s signifying the 16 families that save Biot and it's poterie heritage.
| | | |
| --- | --- | --- |
| Small (10" High) | ........$120.00 | |
| Medium (12" High) | ........$240.00 | |
| Large (16" High) | ........$280.00 | |
| Grande (18" High) | ........$300.00 | |